Several luxurious apartments in Oceanfront complex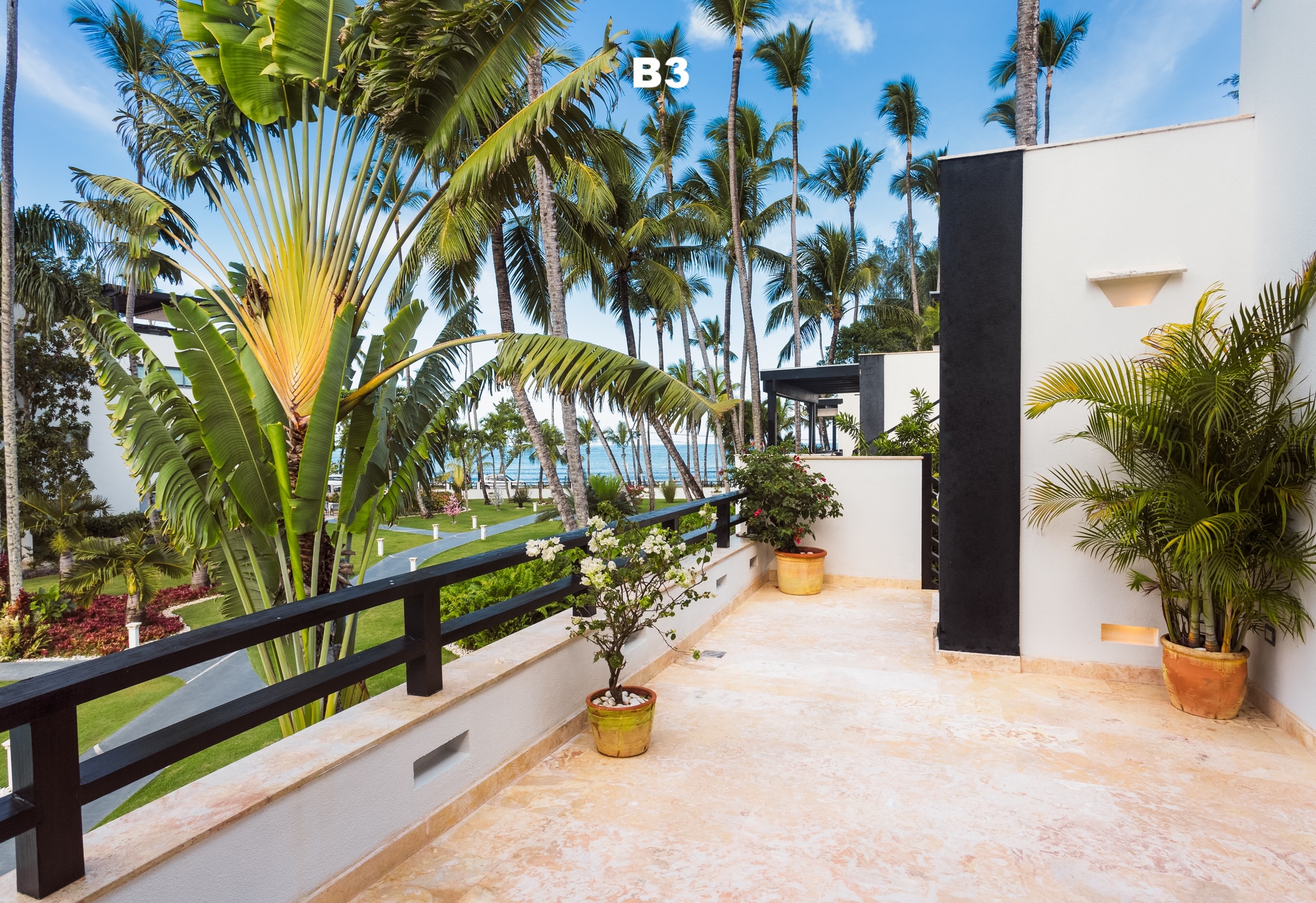 Property Description
732 f² / 68 m² to 1,668 f² / 155 m²
This large and luxurious ocean front complex located only 300 meters (1,000 feet) from the village of Las Terrenas is an very good investment opportunity for the people looking to buy a condo in paradise, enjoy it a few weeks per year while making a decent returns. It is surrounded by spacious grounds and composed of 77 luxury apartments built around two swimming pools with jacuzzi.
10 condos available for sale!
The project blends modern apartments with hotel services. The spa, the pool bar restaurant, the fitness room, the reception and the concierge services guarantee a fantastic stay in Las Terrenas. From 1-bedroom condo with private garden to 3-bedroom penthouse with large rooftop terraces, lots of options to choose from. 5 penthouses left.
The residence also offers facilities as golf carts, guarded parking 24 hours and private garage.
Due to its location, the high quality of materials, craftsmanship and its design devised to reduce environmental impact, this project is truly one of a kind in Las Terrenas. The innovative solar power system supplies electricity for the entire complex and for the apartments. This allows to lower the monthly energy costs in an environmentally responsible manner. This high-end project offers an environment of serenity and comfort with 24 hours security and a multitude of classy amenities.
Every apartment is sold fully furnished and equipped.
Amenities
Italian style equipped kitchen including domestic appliances (fridge, oven, stove) in stainless steel

Imported double glazed, hurricane-proof aluminum windows with rust proof paint

Air conditioning and fans in all living areas

Controlled mechanical ventilation

Quality tiled flooring and plumbing fixtures imported

Integrated spot lights in the kitchen and living room

Woodwork in Brazilian oak and interior fittings (closets in the bedroom(s) and bathroom(s))

Terraces, stairs, bathrooms in treated coral stone

Hot water tank of 50 liters - Electricity 110/220 volts

TV connection and WIFI Internet - Mood lighting

Jacuzzi (for penthouses)

Private Parking
Prices in USD:
#A2 (2BD): 1,517 f² / 141m² = $343,000

#B3 (2BD Penthouse): 1,517 f² / 141m² + Rooftop of 1,087 f² / 101m² = $410,500

#D6 (2BD Penthouse): 1,517 f² / 141m² + Rooftop of 1,087 f² / 101m² = $399,000

#J1 (1BD): 732 f² / 68 m² + Private garden of 2,270 f² / 211 m² = $202,000

#F1 (1BD): 732 f² / 68 m² + Private garden of 2,120 f² / 197 m² = $192,900

#L3 (2BD) = $360,000

#L9 (2BD Penthouse): 1,668 f² / 155 m² + Rooftop 1,668 f² / 155 m² = $626,400

#M5 (2BD): 1,205 f² / 112 m² = $350,000

#M6 (2BD): 1,670 f² / 155 m² = $440,000

#M9 (3BD Penthouse): 1,668 f² / 155 m² + Rooftop 1,668 f² / 155 m² = $810,000
Rental Pool Program
As a member of this program, you retain full ownership of your apartment and have the opportunity to rent your apartment throughout the year or only when unoccupied. A qualified team handles the complete management of your property to maximize rental income and offer additional services to your customers.
Interested in this Listing?
Similar Properties for Sale
Can't find what you are looking for?
Request a free property research. Give us the details about the property you are looking for and a member of our team will research the market for you and send you a selection corresponding to your demands.
Build your villa for 219,000 USD!
We build Caribbean and modern style villas at very attractive prices from 2 to 4 bedrooms. Close to the beach, on top of a hill or in a secure residence, you will find the land that fits your project and budget and we build the villa that you want on top!