3 Cozy Apartments in Calm Residence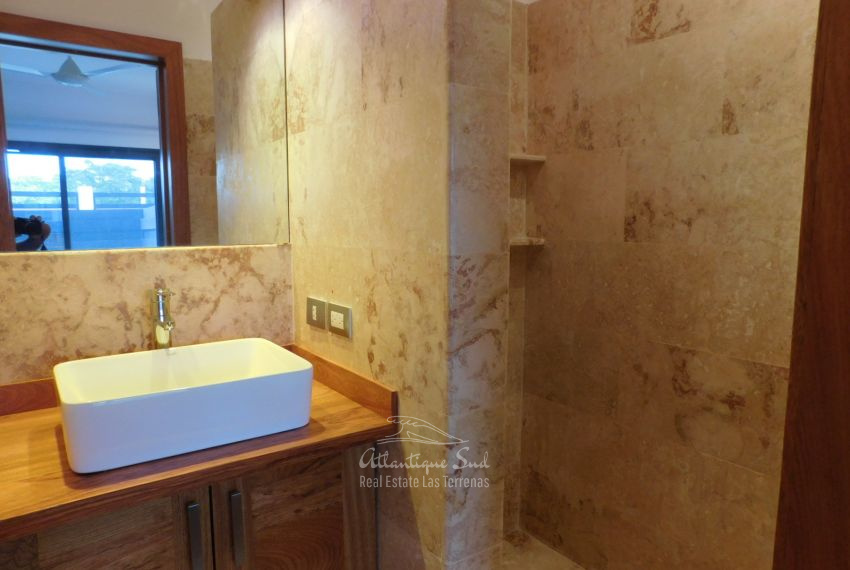 Size: From 936 ft² to 1,055 ft²
From 87 m² to 98 m²
This residence is a beautiful complex of 27 apartments built by a reputable European developer known for its excellent build quality and price points. This residence is composed of 7 buildings with 3 levels, situated around a large swimming pool sitting in their center.
Only 1 km away are the beaches of Bonita and Cosón, and the heart of the village Las Terrenas is just about 400m. The residential is located only minutes from the main center of interests such as squares, shopping areas, bars and restaurants. With its gated land, Fairways Residence is completely secured, it has videophones, electronic entrance gate and night watchmen.
The residence has available apartments with 2 and 3 bedrooms, these apartments were built with a focus on comfort and enjoyment of the outdoors. They all have beautiful and spacious covered terraces, some have gardens. Ensuring a quiet environment for its owners, as well as privacy while at home.
The community
At only 1 km / 0.62 miles from the beaches of Bonita and Coson and less than 5 minutes from the heart of the village, this residence is a complex of 27 condos in total. They are divided into 7 buildings, each of 3 levels. The condos are situated around a large and central swimming pool. The project is focused on outdoor living and comfort, with spacious covered terraces, beautiful gardens and communal swimming pool. Ensuring tranquil environment for your well being and offering privacy for your home. Fairways residence is completely secure with closed land, videophone, night watchmen.
Asking Prices:
A2 (First Floor) - SOLD - 2 bed & 2.5 bath - 936 f² / 87 m² + Garden of 895 f² / 83 m²

A6 (2nd Floor) - US$159,000 - DOWN FROM 172,000 - 2 bed & 2 bath - 1,055 f² / 98 m²

C6 (2nd Floor) - SOLD - 2 bedrooms & 3 bathrooms - 1,055 f² / 98 m²

A1 (First Floor) - SOLD - 3 bed & 2 bath - 113 m² / 1,215 f² + Garden 231 m² / 2,485 f²
Interested in this Listing?
Can't find what you are looking for?
Request a free property research. Give us the details about the property you are looking for and a member of our team will research the market for you and send you a selection corresponding to your demands.